Why LVP is Better Than Laminate Flooring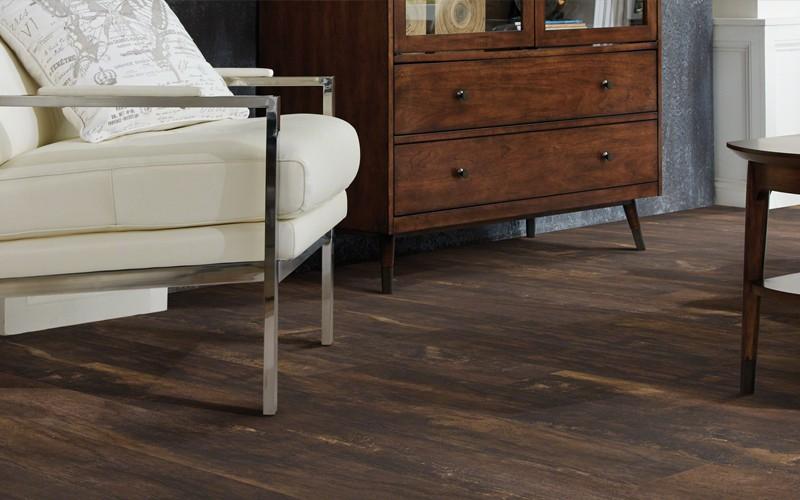 With the incredible quality of colour and design 3d-printing offers laminate and luxury vinyl plank flooring (LVP), at first glance it may be difficult to see the differences between the two. While both have many benefits over their natural stone or hardwood counterparts, there's a great debate over which is the better choice. As your flooring experts in Grande Prairie, we'll fill you in on why LVP is better than laminate flooring.
What You Should Know About Laminate Flooring
Laminate is made up layers that are laminated together. The core is high-density fiberboard, which makes laminate flooring very rigid and the design layers are applied on top, making them vulnerable to scratches and chips. Laminate is installed by clicking and locking the pieces together instead of securing them to the subfloor, creating what's called a "floating floor", which is why laminate flooring can be particularly sensitive to moisture.
How LVP Stands Out
If you think of sheet vinyl when you hear the word "vinyl" in LVP, you're picturing an entirely different floor. Luxury vinyl plank is made using PVC, the compound used in plumbing applications. While LVP is firm, it has been altered slightly from its plumbing format so it also has elasticity, meaning it's super tough while retaining the ability to expand and contract without cracking. For the same reason, it doesn't scratch as easily as laminate and isn't prone to chipping. Sounds great, right? Here are even more reasons LVP flooring is ideal for your Grande Prairie home:
While the initial cost is a little higher than laminate flooring, the lifespan of LVP is roughly 20 years or double that of laminate!
Luxury vinyl has a durable wear layer that can handle any amount of foot traffic you throw at it.
LVP has little to no negative impact on your home's indoor air quality whereas some laminates release formaldehyde into your atmosphere.
Those are all impressive benefits to LVP, but we've saved the best for last. LVP flooring is highly water-resistant. If you were pick up a section of LVP and dump it in a bathtub, it would be perfectly fine! We know you have no reason to do that, but since it is so water resistant, it's perfect for areas like bathrooms and kitchens. That also means when people track in snow and slush from our Alberta winters, your flooring won't be damaged and you can simply mop it up!
While laminate flooring has its benefits for homes in Grande Prairie, we think LVP flooring deserves to be brought into the spotlight because of the advantages it has. Have questions about luxury vinyl plank or laminate flooring? Contact us and our flooring experts at Flooring Superstores Grande Prairie will be happy to share their knowledge with you.

REQUEST FLOORING INFO