Resilient sheet is the ideal flooring choice for rooms where protection from water and other liquids is a constant battle. Achieve the look you want in any room with Resilient Linoleum Sheet flooring.
Stylish Assortment
Almost unlimited choice of colours & patterns
Patterns can include 3D imagery or mimic stone, tile, wood etc.
Can be used in any room
"Resilient" is more than just a name
Durable
Easy to maintain
No cracks or crevices where moisture & dirt can build up
Water, scuff, tear & stain resistant
Cushion-feel underfoot
Invest in Your Future & Your Family's Health
Adds resale value to your home
Hypo-allergenic; it won't harbour pollens, mould or dust
We have everything you need for D-I-Y!
ASK A FLOORING CONSULTANT FOR MORE INFO
Great for kitchens & bathrooms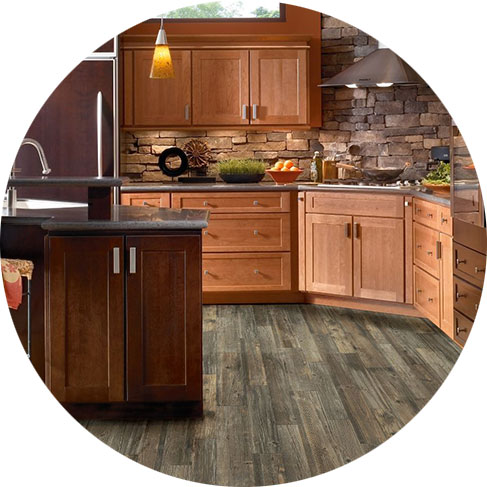 ---




Tile Style Linoleum

Looks like stone without the hard, cold touch
Affordable alternative to stone / tile
Comfortable cushion makes this a safe option for children
Less worrying about breaking dropped items

Wood Inspired Linoleum

Looks like wood without the restrictions
Affordable alternative to hardwood
All species of wood designs available
Textures are enhanced to look like grain & distressing