Which Thickness is Best for Your New Luxury Vinyl Plank Flooring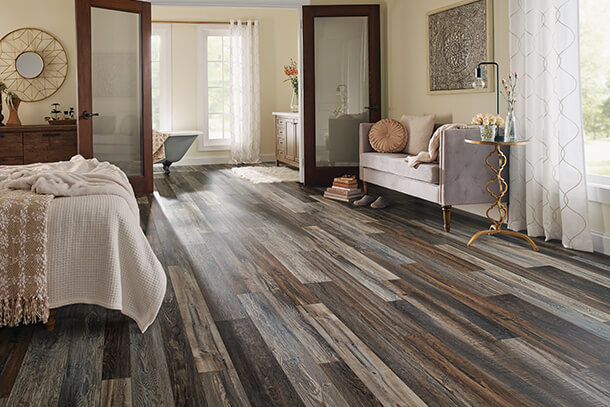 If you are considering luxury vinyl plank flooring in Grande Prairie, one of the things that you should consider is the thickness. This material comes in a variety of thicknesses, so you have to find out which is best for you.
Calculating Thickness
There are three things that you need to take into account when calculating the thickness of your vinyl plank flooring. These planks are made of layers and include the protective wear layer, the core, and the backing. Just keep in mind that manufacturers usually display the thickness of the wear layer, not the actual thickness of the plank. Typically, these measure from 4mm to 8mm, with higher quality planks being thicker.
The Wear Layer
The thing that you really need to consider when determining thickness of your luxury vinyl plank flooring is the wear layer. This is the part that you see and the part that determines how durable your floors will be. When the wear layer begins to break down, the design fades.
Keep in mind that the wear layer thickness is measured in mil, which is one thousandth of an inch. This is not a millimeter, so don't get confused. At a minimum, you should choose a wear layer that is at least 12 mil, but if you have an active family or pets, it should be at least 20 mil.
The Core Layer
The core layer should also be taken into consideration. Some manufacturers have a wood plastic composite core, or WPC, which is made of wood flour, not actual wood. These solid cores help to hide imperfections from the subfloor and make the floor more stable and durable.
The Backing
The bottom layer is usually made of cork or a similar soundproof material. This layer also offers cushioning to walk on, and the thicker it is, the more comfortable it is to stand on.
Do Your Research
When you are shopping for luxury vinyl plank flooring in Grande Prairie, you should consider the wear level, the core, and the backing. Planks that are thicker are generally quieter and warmer in addition to being more comfortable to walk on. If you are concerned about durability, you will want to choose a plank with a thicker wear layer.
Whatever you choose, vinyl plank flooring is an excellent fully waterproof option for any room. If you want to add luxury vinyl plank flooring to your home, come see us today!

REQUEST FLOORING INFO