Top Benefits of Installing Carpet Flooring in Your Entertainment Room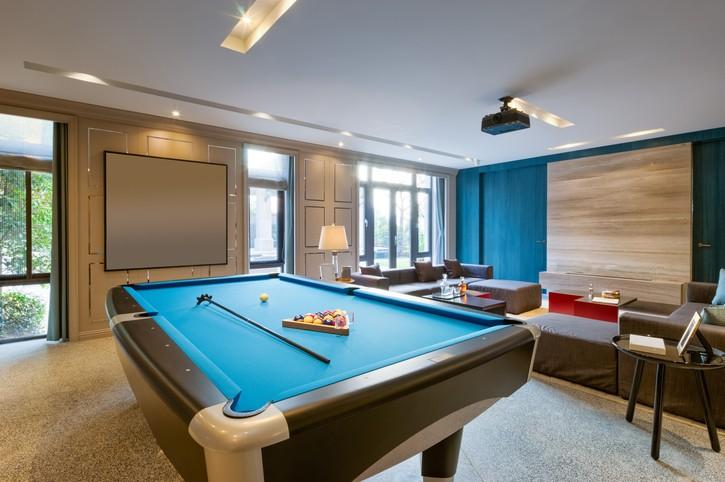 Carpet flooring is making a comeback, and for good reason. There are certain rooms in your house that are meant to be carpet friendly. Your entertainment room, for example, is one of those rooms.
Here are just a few reasons we think your home entertainment room could benefit from adding carpet flooring.
Sound Buffering: If you have a home theater, the sound quality in the room is important. Carpet helps to absorb sound and deaden reverberation around the room. Also, if there are children or pets playing on the floor the sound does not carry as easily as it would from hard flooring.
Welcoming and cozy: Carpet flooring is much more inviting for recreation than hard flooring. It feels soft, cushiony and warm for walking, playing or sitting on.
Stops Allergens: New studies have shown that carpet may reduce symptoms of asthma and allergy sufferers. Carpets trap allergens in its fibers which stops them from becoming airborne and eventually inhaled. Regular vacuuming is still important to completely remove the allergens.
Safe: Carpet flooring is much safer for children or pets who love to run. It reduces the chances of slipping and is much kinder to the body than hard floor would be if someone does take a fall. Carpet flooring also absorbs the shock when walking, rather than your body taking the full impact of it.
Affordable: Carpet flooring is usually more economical than hard flooring. In most cases, carpet can be installed on your current sub-floor, thereby reducing an extra cost to have new sub-flooring installed. Carpet is also a much better source of insulation than hard flooring, which may lower your heating costs.
Enhances Your Decor: Carpet flooring comes in an extensive variety of colors, styles and textures. You can customize the look and feel of your entertainment room just by choosing a certain color or kind of carpet. It can also be used as a plain base for the room, enabling flexibility for decorating.
Easy to Maintain: It doesn't take much time to care for carpet. All it requires is regular vacuuming, and an occasional deep-clean to keep it looking and smelling fresh. Many styles of carpeting are more stain resistant, however, if you do have a spill, try to clean it immediately.
Durable and Long-Lasting: If you keep your carpet regularly maintained, it will repay you by staying beautiful for many years to come, even in a well used entertainment room.
When it comes to carpet, the scope of options may seem overwhelming! Visit us and we'll be glad to help you choose the best carpet flooring for your entertainment room.

REQUEST FLOORING INFO