Summer DIY: How to Install Luxury Vinyl Plank Over Concrete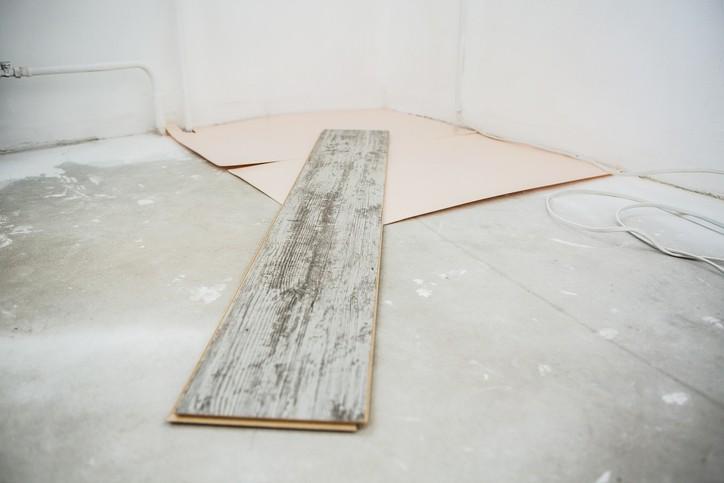 Luxury vinyl plank flooring and concrete are a great match. Luxury vinyl plank can withstand the moisture from the concrete floor in basements, and there is no need to attach the flooring to concrete. It is simple to install, as you'll see in the guidelines below. Remember to check the flooring manufacturer's instructions as well!
1) Acclimatize Luxury Vinyl Plank
2) Prepare Concrete
Remove baseboards.
The floor should be vacuumed, clean, smooth and dry.
The floor should be level within 3/16 inch per ten feet.
Sand any high spots or use a self-leveling compound on low spots.
3) Plan Layout
Decide which direction the luxury vinyl plank will run.
Pull planks from different boxes so there is an equal mix of patterns and colors.
Mark the center of each wall and use a chalk line to snap lines between them. You will then have a center point of the room marked to measure from in case the walls aren't perfectly straight.
Leave an expansion gap of 5/16 inch around the perimeter of the room.
Decide which wall you'll start from. Measure the distance from the center point of the room to the starting wall and subtract the 5/16 inch expansion gap. Mark this distance at each end of the starting wall and snap a chalk line from one end to the other. You now have a straight line against the wall to begin laying the flooring.
Determine the width of the last row. If it will be less than 1/3 of the plank, then cut 1/3 of the plank off of the first row to enable even widths for the first and last row.
4) Laying the Luxury Vinyl Plank
Lay the first plank down along the chalk line with the cut side toward the wall.
Adjoin the next plank at an angle to the end of the first plank, then push it down to click into place.
Cut the last piece in the row to fit.
The pieces must be staggered (usually by 6 inches) from the second row onward. The length that the pieces are staggered is really up to you and the look you want to achieve.
A tapping block may be needed to help connect the pieces. A pull bar may be handy for clicking the last row of luxury vinyl plank into place.
Replace baseboards and use quarter round trim if necessary.
The staff at Flooring Superstores in Grande Prairie is available to help you get started on your project immediately. Stop in today to choose your luxury vinyl plank flooring!

REQUEST FLOORING INFO