How Luxury Vinyl Plank Flooring Can Save You Money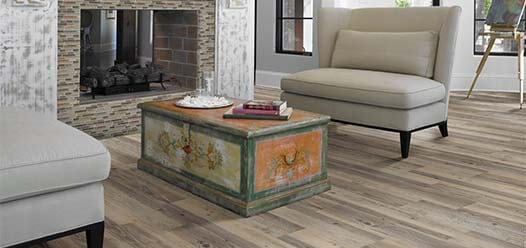 Revamping your flooring is a great way to reinvigorate the look of your home. While hardwood flooring is inarguably beautiful, it is expensive, labor intensive to install, and hard to maintain. For homeowners who are on a budget, luxury vinyl plank (LVP) flooring is the best alternative. It not only gives you the exact look of hardwood, but its cost implications are far less. The following are the ways in which Luxury Vinyl Plank Flooring can save you money:
1. Cheaper per sq.ft
Hardwood flooring is an expensive investment, with the price per square foot ranging from $8-$25. The price gap between hardwood flooring and luxury vinyl plank is huge. Hardwood flooring can be 2-3 times more expensive than luxury vinyl plank flooring. As a matter of fact, the cheapest hardwood is more expensive than top-of-the-line LVP. If you are on a budget, LVP is certainly the more affordable option.
2. DIY-friendly
There are certain flooring types that are hard to install, thus require to be professionally installed. With these types of hard-to-install floorings, you must plan on spending a pretty penny on the total project. Conversely, luxury vinyl plank flooring is DIY-friendly as it comes with a locking system that makes it possible for you to install quickly. The fact that LVP is designed for easy translation makes it possible for you to make huge money savings on both time and labor.
3. Cheaper to maintain
There is a lot that goes into maintaining hardwood floors, from using just the right cleaning products to maintaining ideal temperature and humidity levels to using polish in order to sustain the shine and using treatments to boost its resilience. Unlike hardwood, luxury vinyl plank flooring is extremely easy to maintain. You do not need expensive cleaning products, equipment or treatments to keep your LVP flooring looking as good as new. Therefore, installing LVP flooring will help you cut on maintenance costs.
3. Stable and durable
Hardwood is made from natural material – wood. As agelessly beautiful as it is, hardwood flooring is highly susceptible to wear and tear. Furthermore, wood is a porous material, which means that it is vulnerable to water damage and climate damage. Luxury Vinyl Plank Flooring, on the other hand, is made using synthetic materials that give it water- and weather-resistance. This makes it quite stable, durable and ideal for use in high traffic and water-prone areas. The durability of LVP ensures that you won't have to spend your money on new flooring anytime soon.
Visit us today to choose from a wide selection of luxury vinyl plank flooring in Grande Prairie that will totally revamp the look of your home.

REQUEST FLOORING INFO