2017's Hottest Luxury Vinyl Plank Flooring Design Trends That Will Spice Up Your Home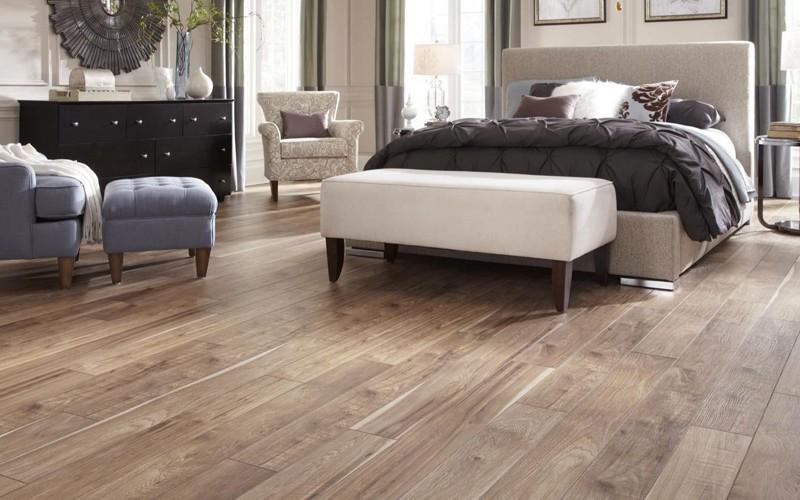 The atmosphere of a room is defined by its flooring. It's time to rip out outdated shag carpet or linoleum floor and replace it with luxury vinyl plank. Luxury vinyl plank flooring is not only durable and easy to install, but these 2017 luxury vinyl plank flooring trends are all fashion forward giving your house an update that will keep it relevant for years to come.
Wider Planks
Wide luxury vinyl planks have emerged as the preferred choice for homeowners looking to improve the aesthetic of their room. Larger planks provide more room for the plank to provide individualized texture and patterns. Additionally, larger planks mean fewer joint lines that connect the planks giving a more cohesive look to the floor. Wider planks make your room look more spacious by reducing the cramped feel from narrow planks. Lastly, wider planks are easier to install and fewer are needed to complete your room.
Low Shine Finishes
When choosing your vinyl planks, you're able to select from four different levels of finishes for your colour and style: matte, satin, semi-gloss and glossy. 2017 trendsetters are all suggesting a less glossy look, preferring the matted floors to allow accents in your room to take centre stage that would otherwise be overshadowed by a glossy floor. In addition to being stylish, matted floors hide scratches, imperfections, and dust.
Innovative Plank Layouts
Luxury vinyl plank installation is straightforward and customizable. This allows you to show your creative flare when placing your planks. Try installing the planks in a zig-zag or herringbone pattern to reflect your personal style. For a larger room, the planks can be assembled in a multidirectional fashion, allowing you to break the room into sections.
Mix and Match Plank Styles
To add an additional layer of individuality to your floor, combine two or three different wood styles. We recommend taking lighter and darker shades of the same wood type and intersperse the planks to achieve a more natural and rustic look. Make sure to use planks that have identical widths and finishes to retain uniformity.
Flooring has never been more exciting and the versatility of luxury vinyl plank allows you to customize in ways never possible before. These trends allow you to mix your creativity with a rustic flare to create a classy and understated floor for your home. Contact us at Flooring Superstores Grande Prairie to envision your next home renovations with one of these LVP trends.

REQUEST FLOORING INFO